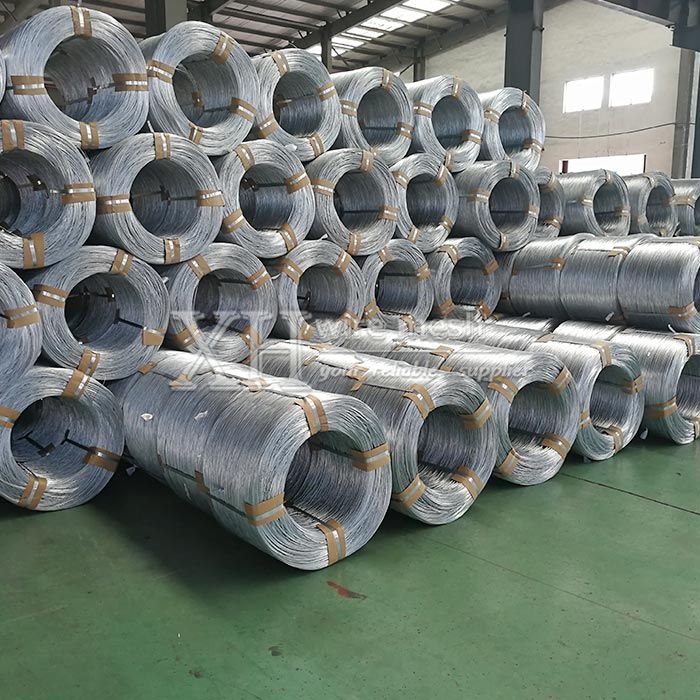 Hot Dip Galvanized Iron Wire
Hot dipped galvanized iron wire is also called hot dip galvanized wire, hot dipped galvanized steel wire and hot dipped galvanized wire.
Products description
Wire gauge: 0.7mm-6.5mm.
Low carbon steel: SAE1006, SAE1008, SAE1010, Q195, Q235, C45, C50, C55, C60, C65.
Elongation: 15%.
Tensile strength: 300N-680N/mm2.
Materials and process:
Quality wire rod, wire drawing, annealed, rust, acid, boiling, drying, and finally zinc.
Surface: Hot-dipped galvanized.
Packing:
In general 25kg/coil (can also according to customer's request), plastic inside and hessian cloth/weaving bags outside.
Application:
Widely used in industry, agriculture, animal husbandry, handicrafts, silk weaving, highway fence, packaging and other daily applications. Like as cable armouring, wire mesh weave.
Zinc coating: 30g-350g/m2.
Advantage: Excellent toughness and flexibility, corrosion resistance and others.
Delivery Detail: Within 15-30 days after get bank deposit.
Specifications:
Hot Dipped Galvanized Wire
Wire gauge
SWG(mm)
BWG(mm)
GB(mm)
8
4.06
4.19
4
9
3.66
3.76
--
10
3.25
3.4
3.5
11
2.95
3.05
3
12
2.64
2.77
2.8
13
2.34
2.41
2.5
14
2.03
2.11
--
15
1.83
1.83
1.8
16
1.63
1.65
1.65
17
1.63
1.47
1.4
18
1.22
1.25
1.2
19
1.02
1.07
1
20
0.91
0.89
0.9
21
0.81
0.813
0.8
22
0.71
0.711
0.7