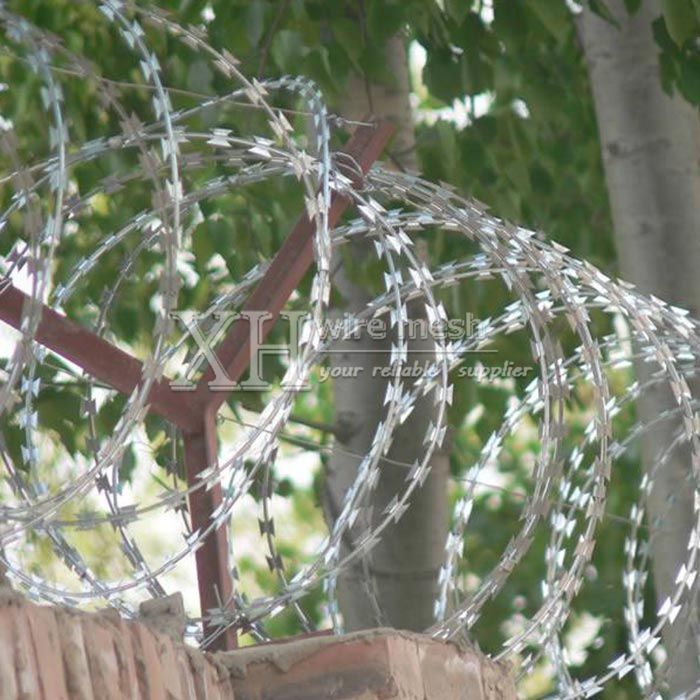 Wholesale Razor Wire
Razor Barbed Wire provides the ultimate in high perimeter security for indoor and outdoor property protection. (Also known as Razor Ribbon, Spiral Wire, Safety Belt Barbed Wire or Hex Accordion Wire) It has 18" stainless steel Razor Wire coils designed to cover up to 50 linear feet. The coils stretch like a "tight fit" and can cover up to 50 feet, but extending beyond 33 feet reduces efficiency. Stainless steel is preferred for a strong, long-lasting solution.
Products description
Razor blade barbed wire is a kind of modern security fencing material fabricated with razor-sharp steel blades and high-tensile wire. Razor blade barbed wire is a special product for safety protection, made of galvanized wire, PVC coated wire and stainless steel mesh material. Razor blade barbed wire blades include fishhook blades, long blades, tearing blades, medium blades and short blades.
Type: single twist barb, common twist barb, reverse twist barb, PVC coated barb
Color: silver, green
Wire material: Q195 and Q235
Certification: ISO9001:2008
Wire diameter: 12#×12#, 12#×14#, 14#×14#, 14#×16# (SWG)
Barb length: 1.5-3cm
Barb distance: 7.5-15cm
Tensile strength: 1) soft: 380-550N/mm2 2) high tensile: 800-1200N/mm2
Packaging: ordinary packaging, plastic handle packaging, wooden spool packaging (different packaging prices)
Surface treatment: electro-galvanized, hot-dip galvanized or PVC coating
Barbed wire length: 100m, 150m, 200m, 250m, etc.
Application: Widely used in agriculture, animal husbandry, housing, plantation, fencing, etc.
Razor blade barbed wire is an ideal material to protect your fields and property. Razor blade barbed wire can be used to create effective barriers around various objects, usually for civilian, military and special purposes. Install the razor blade barbed wire to set up a strong physical barrier with different heights, widths and thicknesses. It is usually installed on the ground or wall, as well as welded wire fences and chain link fences. Razor blade barbed wire can be installed to achieve the result of frightening and stopping to the aggressive perimeter intruders, with piecing and cutting razor blades mounted at the top of the wall, also the special designs make climbing and touching extremely difficult.
Features.
● High carbon steel wire
●Sharp thorns, strong defense, high safety performance
●Good corrosion resistance/ galvanized to prevent rust
●Many types
●Widely used in military field, national security, social fence, private building
●The product sells well, good market, hot sale
●Customized packaging, free label design
Two types of razor blade barbed wire:
Concertina Coil Wire
Concertina Coil Barbed Wire is also known as crossed razor barbed wire. Two pieces of stainless steel razor wire or zinc-coated razor wire are bound together by clips to make it stronger. The spiral intersecting barbed wire presents an intersecting shape after opening with beautiful features and practicality.
Single Coil Razor Wire
Single coil barbed tape wire is installed without clips, it runs in natural loops on walls or fencings. Single coil razor wire is costless and can be easily installed.
Specification:
| | | | | | |
| --- | --- | --- | --- | --- | --- |
| Ref. NO. | Thickness | Wire Dia | Barb Length | Barb Width | Barb spacing |
| BTO-10 | 0.5±0.05 | 2.5±0.1 | 10±1 | 13±1 | 26±1 |
| BTO-12 | 0.5±0.05 | 2.5±0.1 | 12±1 | 15±1 | 26±1 |
| BTO-15 | 0.5±0.05 | 2.5±0.1 | 15±1 | 15±1 | 33±1 |
| BTO-18 | 0.5±0.05 | 2.5±0.1 | 18±1 | 15±1 | 33±1 |
| BTO-22 | 0.5±0.05 | 2.5±0.1 | 22±1 | 15±1 | 34±1 |
| BTO-28 | 0.5±0.05 | 2.5±0.1 | 28±1 | 15±1 | 45±1 |
| BTO-30 | 0.5±0.05 | 2.5±0.1 | 30±1 | 18±1 | 46±1 |
Size of using:
Outside Diameter

No. of Loops

Standard Length per Coil

Type

Notes

450mm

112

17M

BTO-10. 12.18.20.22

Concertina

500mm

102

16M

BTO-10. 12.18.20.22

Concertina

600mm

86

14M

BTO-10. 12.18.20.22

Concertina

700mm

72

12M

BTO-10. 12.18.20.22

Concertina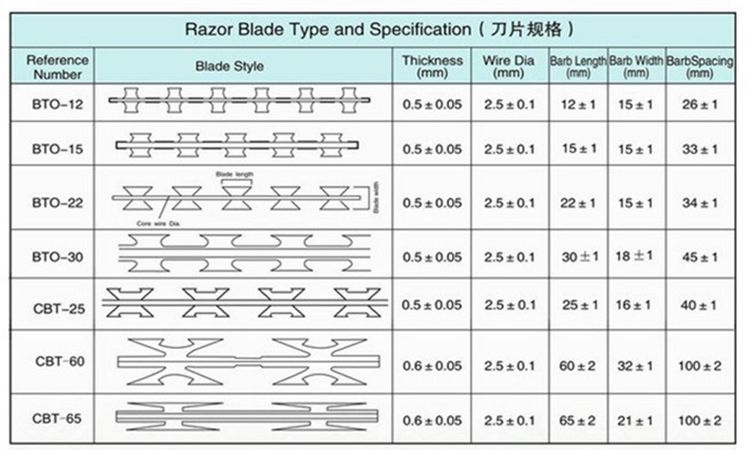 Application
Razorblade barbed wire is mainly used for military affairs, prison, government, bank, ship(vessel) and also in living wall, personal house, villa wall, window, autobahn, railway and border of the fence.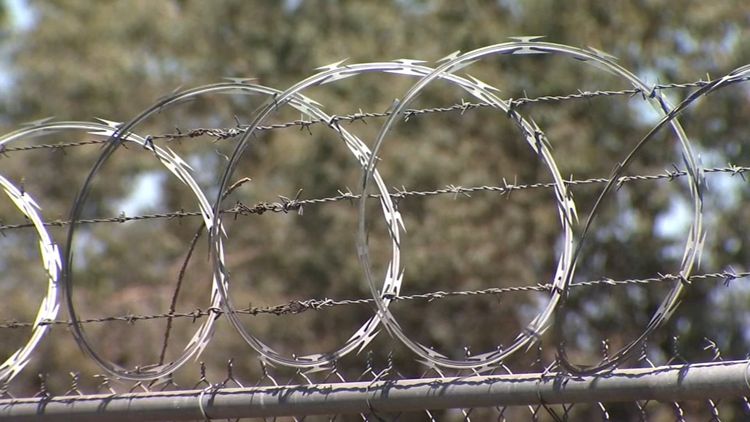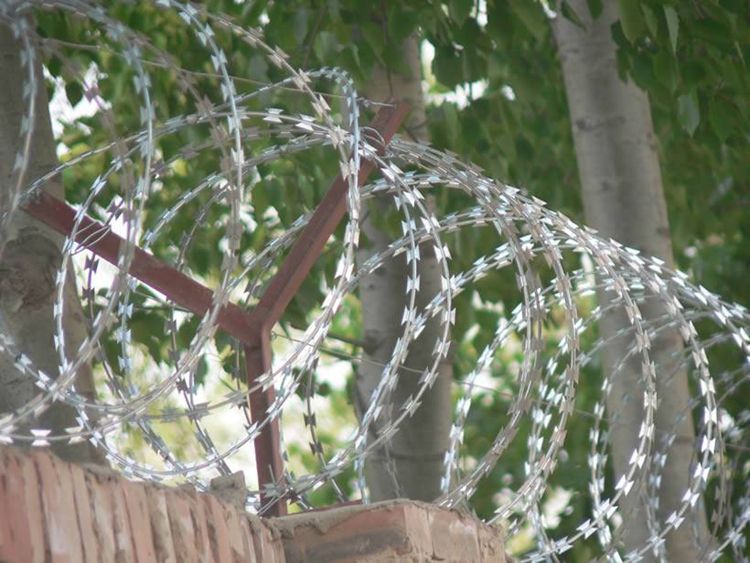 Packing
1. Plain packing, plastic handle packing, wooden spool packing.
2. Standard packaging is 27 spools on square wooden pallets. Each pallet is wrapped with HDPE board and securely fastened with steel hoops. Each bag has a spool showing description, quantity and country of origin, size and markings.
3. On request