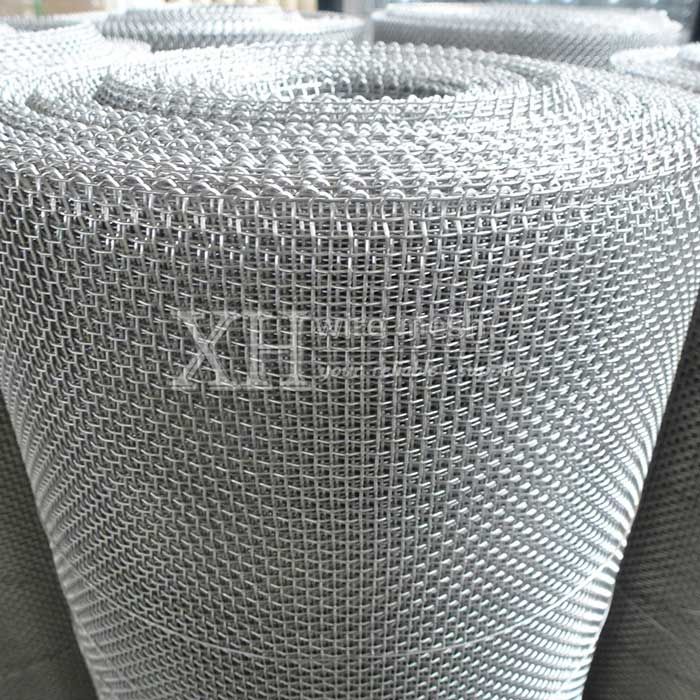 Woven Wire Mesh
Material:
Low carbon steel wire, Stainless steel wire, Aluminum-magnesium alloy wire, Galvanized wire, PVC wire, Aluminium wire
Products description
Woven Wire Mesh
Woven Wire Mesh is woven in the same way as cloth on a loom. The most common materials used to manufacture woven wire mesh are carbon steel, galvanised steel and stainless steel as well as aluminium.
Common materials used for the manufacture of woven wire mesh include
Carbon steel
Galvanised steel
Stainless steel wire mesh
Aluminium
Copper
brass
Stainless steel wire mesh is particularly useful because it is extremely resistant to chemicals, suitable for hot or cold liquids and easy to clean. Aluminium mesh is lightweight, strong, has a high electrical conductivity and a low melting point. Aluminium mesh is also remarkably resistant to atmospheric corrosion. Carbon steel and galvanised wire mesh is strong, economical and readily available.
Features of woven wire mesh
Robust construction
Wide range of uses
Easy to install
Low wind load resistance
Easy to cut to fit
Available in a wide range of materials, such as stainless steel and aluminium
Because our woven wire is versatile and easy to install, it can be used in a variety of applications. From fencing to machine guarding, XH wire mesh has woven wire mesh for your application. Examples of common applications include
Woven wire baskets
Woven wire architectural grilles
Woven wire display racks and stands
Woven wire racks
Woven wire mesh liquid filtration
Woven wire mesh air filtration
Woven wire mesh wall reinforcements
Woven wire handrail panel inserts
The heavier woven wire must be pre-crimped. The material remains stable and rigid after the crimping process. Pre-crimped woven wire is ideal for industrial and architectural applications.
Aluminum Woven Wire Mesh
Aluminium woven wire mesh is light, in fact a good rule of thumb is that it is approximately 1/3 the weight of stainless steel compared to stainless steel mesh. aluminium wire mesh is also corrosion resistant in most normal environments, but will corrode rapidly in the presence of alkaline solutions and hydrochloric and hydrofluoric acids. With an estimated melting point of 1218°F, aluminium has many benefits, including relatively low cost compared to other wire screens. Aluminium woven wire mesh is a popular choice for a range of industries, including aerospace and automotive, as well as marine and electrical conductivity applications.
Due to its price, quality and adaptability, aluminium wire mesh works perfectly in many applications. Mesh is easy to shape, mould and cut with basic hand tools due to its soft material nature and can be easily found in any hardware shop. Tin snips will cut the heavier 2 mesh to 10 mesh, while household scissors should be able to cut finer mesh sizes, 16 mesh and above.
We offer a wide choice of wire mesh types depending on material, finish, size and weave, meaning there are endless combinations to suit your project needs. We also offer a laser cutting service to manufacture bespoke parts accurately, efficiently and economically. We are here to help you find the best mesh for your needs.
Features and uses
People tend to use aluminium wire mesh because it is both lightweight and strong. This material is the key to the manufacture of many vents, fan covers and filters. In addition, aluminium fan covers keep birds, bats and snakes away.
Aluminium is a common choice due to its relative affordability and its price is lower than some other metals. Its high electrical conductivity makes it ideal for a wide range of applications and it resists corrosion under most normal conditions.
Industrial, marine, aerospace, transportation and many other industries have turned to aluminium wire mesh for its unique advantages. Its uses include.
8 mesh To keep bees out of attics and other housing spaces. (5 mesh does not include queens.)
8 mesh and finer keep exhaust fans away from debris and insects.
Sizes including 20 mesh are a valuable component of roof vents.
A range of aluminium mesh discs are available for filtering, tensioning and performing other essential tasks in ducts, pipes and ducts.
In addition to the heavier wire mesh, aluminium can be up to 65% lighter, which is essential for lightweight screens. It is also flexible and can be used in applications where more rigid steel screens cannot be used, such as vents.
Choosing your wire mesh material
In general, our website provides detailed descriptions and pictures of many aluminium screens. For those unfamiliar with wire mesh terminology,2 mesh has two openings in square inches in each direction. You can easily put a pencil through the openings.
16 mesh is used for window or porch screens to keep out common insects. 60x40 mesh is a common size for kitchen taps. An 80 mesh has an opening that will barely fit through a human hair. A sheet of paper is approximately three thousandths (.003) of an inch.
Packaging
1. Waterproof paper + woven bag.
2. Waterproof paper + carton box.
3. As customers' requirements.

Specification
Specification List of Window Screen Netting
Variety
Specification
Technical Notes
Mesh/Inch
Wire Gauge
Roll Size
Gal.Iron Enamelled Window Screening
10 x 10
BWG31
3"x100"
Process: Electric galvanized after weaving
14 x 14
BWG32
4"x100"
Color: White or Light-blue
16 x 16
BWG33
1x25M


18 x 18
BWG34
1.2x30M


18 x 14


1.5x25M


22 x 22






24 x 24






Invisible Window Screening
10 x 10
BWG31
3"x100"
Silver
14 x 14
BWG32
4"x100"
16 x 16
BWG33
1x25M
18 x 18
BWG34
1.2x25M
18 x 14


1.5x25M
22 x 22




24 x 24




Aluminum Wire Window Screening
10 x 10
BWG31
3"x100"
Material: Al-mg.alloy or Enamelled Aluminium Window Screening
14 x 14
BWG32
4"x100"
16 x 16
BWG33
1x25M
18 x 18
BWG34
1.2x25M
18 x 14


1.5x25M
22 x 22




24 x 24




Fiberglass Window Screening
10 x 10
BWG31
3"x100"
Green Or Dark Green
14 x 14
BWG32
4"x100"
16 x 16
BWG33
1x25M
18 x 18
BWG34
1.2x25M
18 x 14


1.5x25M
22 x 22




24 x 24




Plastic Wire Window Screening
12x 12
BWG31
3"x100"
Twisted weaving:12 14 16mesh;
14 x 14
BWG32
4"x100"
Plain weaving:18 22 24mesh;
16 x 16


1x25M
Colors available:white,blue,green,etc.
18 x 18


1.2x25M


22 x 22






24 x 24






Stainless Steel Wire Screening
14 x 14 SWG38
3"x100"
Materials: Stainless steel 304 316 316L
16 x 16 SWG37
4"x100"
18 x 18 SWG36
1x25M
18 x 14 SWG35
1.2x25M
20 x 20 SWG34


PVC Coated Wire Screening
12x 12
BWG31
3"x100"
Suitable For Petroleum, Pipeline, Package. All Kinds of color
14 x 14
BWG32
4"x100"
16 x 16


1x25M
18 x 18


1.2x25M
Types of Woven Wire Mesh
Type PC - plain crimp
Wire cloth with a square or rectangular pattern using equally sized warp threads and filler threads. The warp threads pass through the filling threads in an alternating pattern at adjacent intersections and underneath the filling threads.
Type IC - Clamping device
A wire cloth made with curled warp threads that are filled with filler threads at every other curl. Such a cloth provides superior rigidity and greater stability. Commonly used for screen and construction applications.
Type LC - Locking Crimp
A versatile wire cloth manufactured to maintain precise openings. Each intersection is woven from filler wires in straight sections of the warp. The filler wires are woven in an alternating pattern, from top to bottom.
Type FT - Flat Top Crimp
All crimps are offset to one side, producing a wire cloth with all wire surfaces on one flat surface at the top. This even surface allows the material to flow smoothly over the top surface of the cloth.
Construction Patterns
In addition to the above patterns, Xinghong is pleased to offer a variety of architectural patterns for your consideration. Crimp patterns with a compound line arrangement provide an attractive appearance. Wire combinations including round and flat wires are readily available for your most creative installations. All products are available in a wide range of alloys and popular examples can be found on the product page for architectural wire.