Apr. 07, 2023
Galvanized stainless steel is an extremely durable and long-lasting material. Pipes, nails, beams, plates, bars, rods, and other industrial products are often galvanized to ensure decades of strength and corrosion resistance.
Metal screens play a key role in thousands of commercial and industrial applications. Galvanized screens, in particular, offer a lot of value as they are adaptable, durable, and reasonably priced.
The production process of galvanized wire mesh
The thick, strong zinc outer layer of the galvanized wire mesh type is what makes galvanized hardware cloth so strong and resilient. How does it obtain this coating? It can be done in several ways: hot dipping and electro-galvanizing. Each process is outlined below.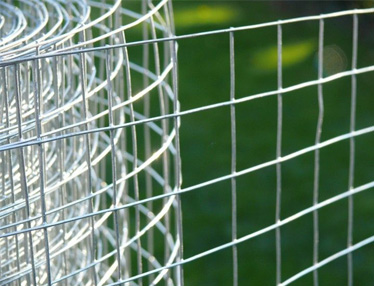 Galvanised Welded Mesh
Hot dipping
1. The stainless steel is cleaned with a sodium hydroxide solution to remove dirt, debris, oil, and other residues.
2. An acidic solution is then used to remove any rolled chips, rust, contaminants, and other surface impurities.
3. Zinc ammonium chloride cleaner (also known as "flux") is applied to the surface to prevent oxidation. The solution is retained on the steel as it helps the zinc adhere.
4. Next, the stainless steel is dipped into a bucket of molten zinc (which has been liquefied at a very high temperature).
5. The steel is left in the vat until it reaches the same temperature as the hot zinc.
6. The stainless steel is removed from the vat and cooled quickly in a special tank.
Hot-dip galvanizing creates a physical and chemical bond between the steel and the zinc. This is known as a zinc-steel alloy.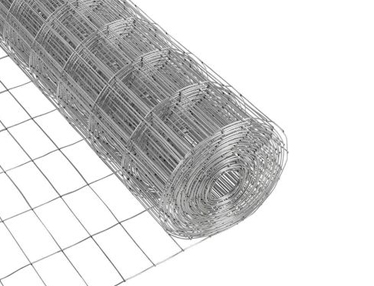 Galvanised Welded Mesh
Electro-galvanizing
Unlike hot dip, electro-galvanizing (or electrolytic galvanizing) is a cold process. Zinc particles are used to create an organic solvent, which is applied to the surface of the steel.
This causes a reaction between the substances to produce a zinc-steel alloy. When the solvent evaporates, the zinc remains on the metal. Electro-galvanizing usually leaves a thinner layer of zinc than the hot dip method.
Galvanizing before and after the manufacture of the mesh
Stainless steel can be galvanized before or after it is made into wire mesh. When galvanizing is first carried out, the metal is pulled down to the required diameter. The individual wires are coated with zinc and then woven or welded into the screen. Welding will burn off the zinc layer at the joints, in which case galvanizing again may be required.
When fabrication first occurs, the pre-braided steel product is dipped into molten zinc or coated with a solvent. This is usually the more expensive option, especially if the mesh product is custom ordered and then galvanized. However, it ensures that the mesh screen retains its protective coating.
Industrial uses of galvanized wire mesh
What are the uses of galvanized stainless steel wire mesh screens after galvanizing? Due to its remarkable durability and corrosion resistance, this material is an important component of many industrial applications.
Galvanized stainless steel screens are used.
- Agriculture and farming
- Archaeology
- Fencing, enclosures, and security
- Horticulture, greenhouses, and landscaping
- Gutter guards, soffit screens, and foundation vents
- HVAC applications
- Particulates
- Pest control
- Retaining walls
- Roofs, ceilings, infill panels, drywall, and insulation
Galvanized hardware cloth is technically a type of stainless steel mesh. However, the material is often given its own category because of its distinctive characteristics and advantages.