May. 21, 2021
Welded wire mesh according to the material and the production method is different, there is a lot of classification, including stainless steel, welded wire mesh, wire mesh, PVCwelded of welded hot-dip galvanized, electric galvanized wire mesh welded wire mesh. The stainless steel welded wire mesh is more common, because it is acid and alkali resistant, and beautiful appearance, is also very extensive use. Next, the galvanized welded mesh supplier will introduce things you should know about galvanized welded mesh.
Usage of Galvanised Welded mesh
Galvanised welded mesh has a protective coating to protect it from corrosion and rust. The galvanized welded mesh in a variety of applications, including safety cages, safety fences, metal fences, guardrails, rodent-resistant net, mechanical shields, livestock and plant guardrails, etc.
They are widely used in industry, agriculture, construction, transport, and mining. Such as machine protection cover, ranch fender, garden fence, window protection fender, passage fender, fowl cage, etc.
The welded wire mesh can also be used as a poultry case, egg basket, passageway rail, waterspout, lobby.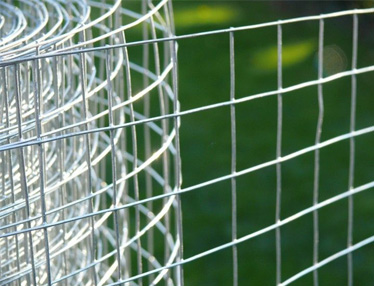 Galvanised Welded Mesh
Features of Galvanised Welded mesh
Strong welded points and bright luster. The mesh doesn't come loose even if cut in parts or being. Exerted force on parts. Compared with general iron wire, the products are better in respect of anti-corrosive and anti-rust.
How does galvanization prevent corrosion?
Galvanizing protects the underlying steel in three ways:
By providing a physical barrier of zinc and zinc carbonate preventing corrosive substances from reacting with the underlying steel.
The zinc, thanks to its greater reactivity, protects the underlying metal by corroding before iron.
The zinc functions as a sacrificial anode so that even if the coating is scratched, the exposed steel will still be protected by the zinc cathodic reaction.
In normal conditions galvanizing can provide corrosion protection for the steel core for up to 50 years, or more in arid areas. However, in rural, industrial, and marine environments pollutants including herbicides, sulfur compounds, and high salt content can rapidly increase the corrosion rate of zinc and reduce the life of the fence.
It's important to remember that corrosion rates are also affected by a number of other factors such as rainfall, humidity, temperature, and the thickness of the zinc coating. For example, whereas heavy rainfall can increase corrosion rates in dry conditions, it can however significantly reduce corrosion rates in highly corrosive marine or industrial environments.
Find reliable galvanized welded wire mesh suppliers
Successful fencing always starts with the right knowledge and expert advice. Come and talk to the friendly experts at Protective fencing –we are one of China's leading providers of galvanized steel mesh and wire mesh products.
Anping Xinghong Metal Wire Mesh Co., Ltd is located in Anping, the famous Wire Mesh Land of China. Established in 1985, today Xinghong has developed to be a major company equipped with more than 200 sets of wire mesh production machines and engaged in various wire mesh products' sales and production. If you want to get more information about galvanized welded mesh, welcome to contact us.