Jun. 19, 2021
A gabion is a welded wire cage or box filled with materials such as stone, concrete, sand, or soil. Therefore, welded gabions are partially flexible block structures used for slope stability and erosion protection during construction. Various types of gabions are constructed and used in different engineering constructions. Sometimes, rooted branches can be placed between baskets filled with rocks to improve the durability and stability of the gabions. This article describes the definition, history, applications, and advantages of gabions.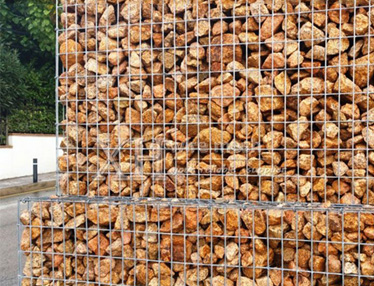 Welded Gabions
The word "gabion" comes from an old Italian word, gabion, which means "big cage ". Around 7000 years ago, early gabion-type structures protected the bank of the river Nile. In the middle ages, gabions were used as military forts. In earlier history, civil engineers have extensively used gabions for the stabilization of banks, coasts, highways, and erosion control of slopes. From the banks of the River Nile, where they were created up to today, gabion walls are a benefit for the landscape. It is used for thousands of years as a gravity-type retaining structure and makes an attractive, efficient, and cheap wall system.
Gabions are rectangular, interconnected, rock-filled baskets of metal wire formed from welded or woven wire mesh and used to form aesthetically pleasing retaining walls.Common gabion basket dimensions are 2,0 x 1,0 x 1,0 m. Galvanized mesh has a hexagonal shape with the eye size X x Y = 8,0 x 10,0 cm.
Applications of Gabions
Gabions are used in several engineering projects and for various purposes. Common applications of gabions are as follows.

Retaining structures, such as retaining walls, revetments, and toe walls to road embankments and rock chips.

Erosion-resistant structures such as seawalls, riverbank defenses, canal embankments, dams, weirs, troughs, and for protecting reservoirs and lakesides.

Cylindrical metal gabions are used for dams or foundation construction.

It is used as a sound barrier.

Gabions are also used as temporary floodwalls.

It is used to redirect the force of floodwater around weak structures.

Stepped gabions improve the dissipation of energy in the channel.

Finally, it is used for aesthetic purposes.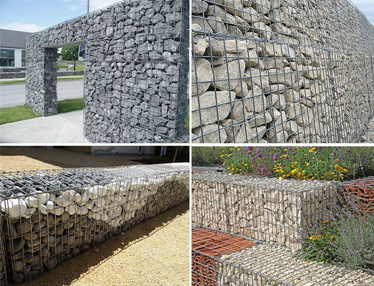 Benefits of gabion walls
1. Durability
Gabion has a very high resistance to atmospheric corrosion because of the well-bonded zinc coating on the wire and its ability to support vegetation growth.
2. Flexibility
This feature permits the gabion to settle and deform without failure and loss of efficiency. Specifically, when unstable ground and moving water are encountered.
3. Permeability
It provides automatic and easy drainage which eliminates the need for the installation of drainage pipes.
4. Strength
Gabions are satisfactory strong that is it is capable of resisting flood force, torrential force, and ice and earth pressure.
5. Economical
It is more economical in terms of both material and labor in comparison with other gabion alternatives.
6. Environmentally friendly
Recycled materials can be placed into the gabion cage. The gaps in the soil between filling materials allow the plantation to grow over time. Gabion elements are not affected by natural phenomena.
Anping Xinghong Metal Wire Mesh Co., Ltd. is located in Anping, the famous Wire Mesh Land of China. Established in 1985, today Xinghong has developed to be a major company equipped with more than 200 sets of wire mesh production machines, and engaged in various wire mesh products' sales and production. If you want to get more information about the best gabion for sale, welcome to contact us.