Jun. 29, 2021
When people think of a security fence, they are looking for something strong to convey the message that their home is an impregnable fortress. They may be looking for a fence that is strong, high and thick, and difficult to climb over. They may also think the barrier should block the view of the house as a residential cedar fence, so burglars can't see the windows and notice a person's property.
While a security fence should be difficult to climb, you want to avoid a solid barrier that is impenetrable. There are other features of the fence you should invest in.
Security Fence Materials
Interestingly enough, as long as you focus on the above-mentioned features on your security fence, then you can choose all the normal materials for the structure. Choose wood, wrought iron, aluminum, or PVC. If you choose a chain link fence, you want to make sure that the wire used is at least 9 gauge thick. Using thicker wire will reduce the likelihood of thieves trying to cut through the wire with wire cutters.
Choose a fence that not only provides you with protection but is aesthetically pleasing. Then add other security measures. Outdoor lights, motion detector lights, burglar alarms, and security surveillance can add these extra elements to make your home feel safe. There is also a lot of smart technology available, and you can access these features directly on your mobile app.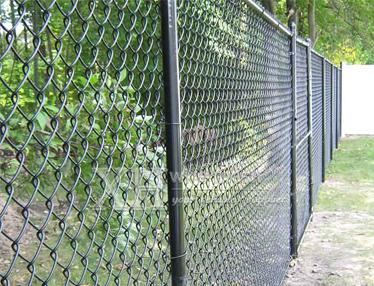 Chain Link Fence
WHAT TYPE OF FENCE IS BEST?
So, you're now well aware that there is a range of security fencing out on the market today. But before you close the gate on any of them, here's a bit of information to help you make a more informed decision on the fence that will suit the level of security or privacy you require. Read on to find out which type of fencing best suits your property and your needs!
#1 CHAIN-LINK
This fence is easily installed and traditionally used for commercial and industrial properties. It's affordable, long lasting, and can be made to any specification. For added security, razor wire can be added on top to further prevent intruders.
#2 WELDMESH
Sturdy and durable, this type of fence is also cost-effective. Weldmesh is most commonly used on leisure centres, playgrounds, parks, industrial areas, schools, agricultural sites, and swimming pools. It's definitely more attractive than the chain-link fencing.
#3 PALISADE
This type of fence is the strongest and the most durable type of security fencing on the market. Made from heavy-duty rolled steel pickets, it is extremely hard to climb and is used in electrical sub-stations, train and bus depots, and other high-security premises.
#4 GARRISON
One of the most popular choices, garrison fencing is perfect for medium security requirements. It's welded with tubular panels and is pleasing aesthetically. It's also great at deterring vandals and intruders. This type of fencing is best suited to built-up areas and is most commonly used in light commercial areas, schools, public buildings, private and public swimming pools, and community centres.
These are just some of the types of fencing available to secure your property. Now that you know the benefits security fencing can provide and you know some of the most common fencing options, contact us for an obligation-free quote on how to pick the best fencing for your needs.