Oct. 29, 2021
A high tensile rockfall mesh system is designed to control rockfall movement by directing falling debris to a collection point at the foot of the slope, thereby protecting structures from debris damage. Protecting roads, buildings, and other structures directly at the tip of man-made rock debris or natural cliffs is a major challenge for engineers. Falling debris and rock may be due to vegetation action, thermal expansion, wind, cold and thawing, hydrostatic pressure, and seismic action causing rock degradation.
1. Soil Or Rock Nails
A high tensile rockfall mesh system is ideal for creating rockfall drapery because it is flexible in all directions and will not come apart even in the event of some wire breakage. It also does not inhibit the regeneration of vegetation, allowing the slope to return to its natural state after restoration.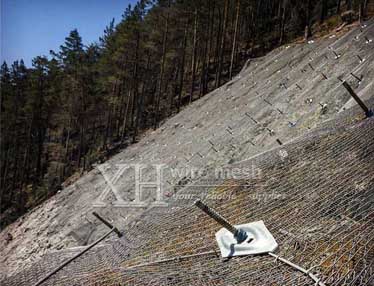 High Tensile Rockfall Mesh
2. Spike Plates
Adapted to the local soil and rock static requirements, the high tensile rockfall mesh can be anchored in accordance with our dimensioning concept with commercial soil or rock nails. The main anchors of the system are installed in a grid typically from 6.6 to 16.4 ft (2.0 to 5.0m)horizontal and vertical spacing. Actual spacing depends upon the results of site analysis and modeling. Anchor consists of commercially available steel bars ranging from 1.0 to 1.25 ft (25 to 32mm). Self-drilling grout injection anchors are also permitted. Additional anchors may also be used to provide added support at boundaries and in low points and hollows.
3. Connection Clips
Rigid spike plates that are reinforced with ribbing ensure optimal load transmission from soil or rock anchors to the high tensile rockfall mesh. These plates are placed over the anchor heads and tightened to pre-tension the mesh onto the slope. The plates are galvanized and have dimensions of 13.0''*7.5"*0.4"(330mm*190mm*10mm).
The connection clips' high-strength steel wire connection clips enable mesh sections to be joined without overlapping and still guarantee one hundred percent transfer of forces. These claws are hot-dip galvanized and consist of a 0.25"(6mm) thick steel spiral.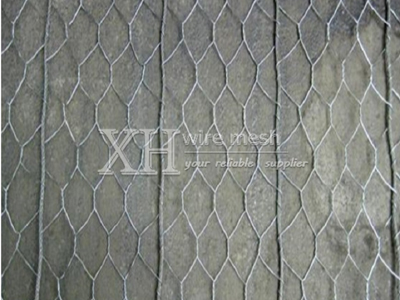 Rockfall Netting
The function of Rockfall Mesh
Rockfall mesh is commonly used for simple curtain systems and for a variety of specialist geotechnical applications including slope stabilization, rockfall protection, and surface protection applications.
Applications of Rockfall Mesh
rockfall mesh has been used around the world for over 60 years and is proven to provide strong, durable, and cost-effective rockfall protection. On moderately steep slopes, or on slopes where some vegetation may grow, the mesh should be placed as close to the slope as possible. On very steep and/or near-vertical slopes, the mesh must be fixed at the top of the cliff and not at the bottom, thus allowing rocks and debris to fall into a collection trench at the bottom of the slope. A key factor is to have a secure and continuous anchor point at the top.
The benefits of Rockfall Mesh
Cost-effective and low maintenance as the line does not break apart if it does
Flexibility to match existing slopes and rock profiles
Different levels of coating protection for durability in a variety of environments
Does not inhibit vegetation regeneration
As a professional rockfall netting supplier, we can provide a rockfall netting design service. High-quality slope protection netting for sale, welcome to contact us.